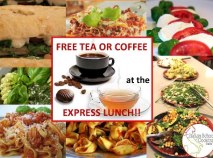 EXPRESS LUNCH AND TAKE AWAY AT THE ITALIAN SCHOOL OF COOKING, DUBLIN 12.
The Italian School of Cooking is very proud to share the great success of the launch of the express lunch and take-away here at the School. We take great pride in serving the best seasonal ingredients with our Italian touch. Thanks for helping this project to grow. Every day from Monday to Friday from 12.00 to 15.00 come to the School to treat yourself to your Italian moment of the day.
For more info: 01.4608800 – info@flavourofitaly.net
Free coffee or tea with our Express Lunch!!