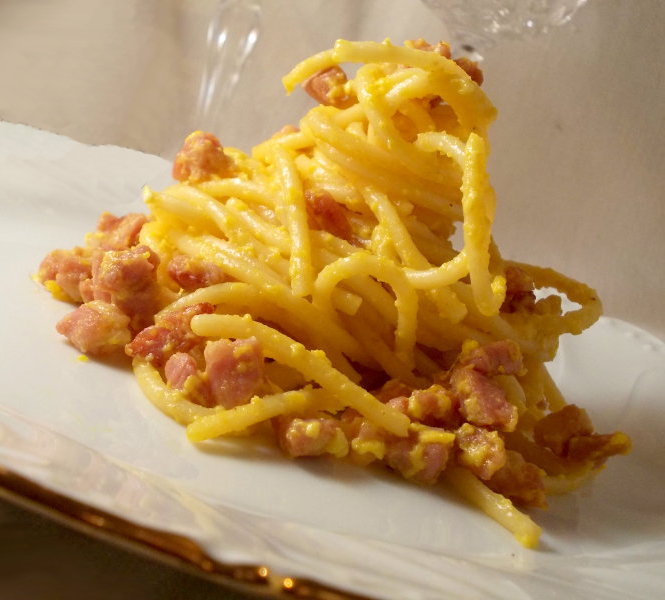 PASTA ALLA CARBONARA is one of the most popular and known recipe of Rome and Lazio Region. Below you find the recipe to prepare it.
It's a very simple and fast recipe to do. If you have short time you can use spaghetti pasta instead to prepare home made pasta that would take you more time.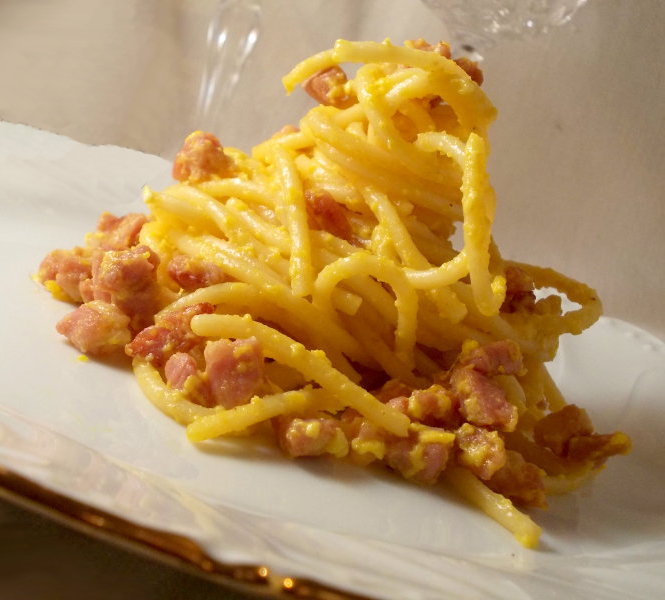 INGREDIENTS (serves 5)
For the dough:
• 400 g 00 FLOUR
• 180 g WATER
• Pinch of salt
• 30 g EXTRA VIRGIN OLIVE OIL

For the sauce:
• 200 g pancetta
• Extra virgin olive oil
• 6 egg yolks
• 50 g grated parmesan cheese
• 50 g grated pecorino cheese
• Black pepper
Pici pasta: knead the flour with a pinch of salt, the oil and the water until you get a smooth dough. With the help of a rolling pin roll out a dough (not too thin)
With a sharp knife cut into strips of half a cm thickness and a length of 20 cm. Take each strip and roll it, making it thin and tripling the length. Arrange pici on floured trays. Cook in salted water for a few minutes.
Carbonara sauce: cut pancetta into cubes or strips. Cook pancetta with some extra virgin olive oil in a heavy skillet until crisp. Cook the pici in salted water for a few minutes. Meanwhile, combine the egg yolks, half the grated cheeses and black pepper in a medium bowl and beat until well blended. Before drain the spaghetti add some spoons of the boiling water to the egg yolks to get a creamy sauce. When the pasta is cooked, drain and immediately add to the skillet with pancetta. Place over low heat and mix for 1 minute. Remove from fire and stir in the egg mixture and toss thoroughly until combined. Add the remaining cheese and serve immediately.
If you want discover more about Rome have a look at our tour: LAZIO & ROMA – 5 NIGHT STAY, TASTE AND EXPLORE HOLIDAY