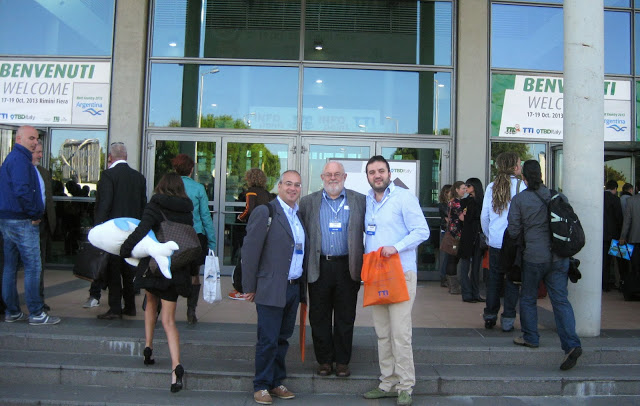 Written by Patrick Keenan for HOLIDAYezine
Pat Keenan joins with the Buyers and Sellers at one of Italy's largest travel shows
Locations map: https://mapsengine.google.com/map/edit?mid=z_7BZOG16uqY.kzhWRprBaMwM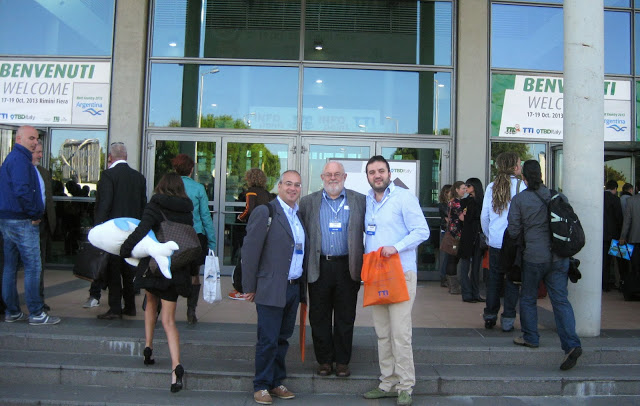 Maurizio Mastrangelo (left) and Marco Giannantonio (right) representing The Flavour of Italy Group
and Patrick Keenan of HOLIDAYezine at TTI-Travel Trade Italia, Rimini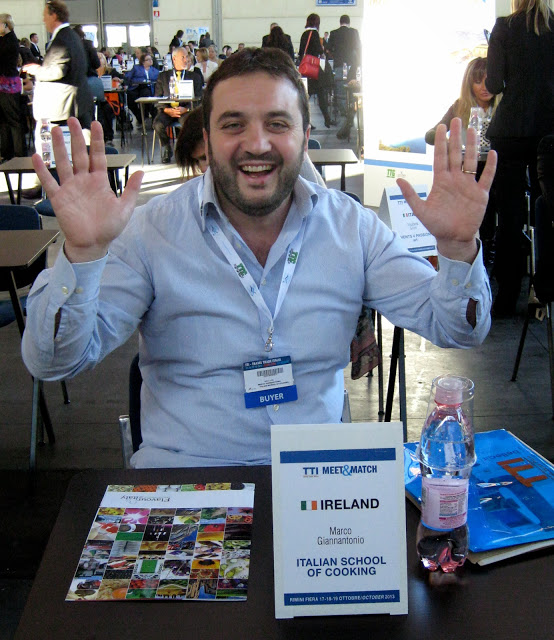 Marco Giannantonio representing Ireland's Italian School of Cooking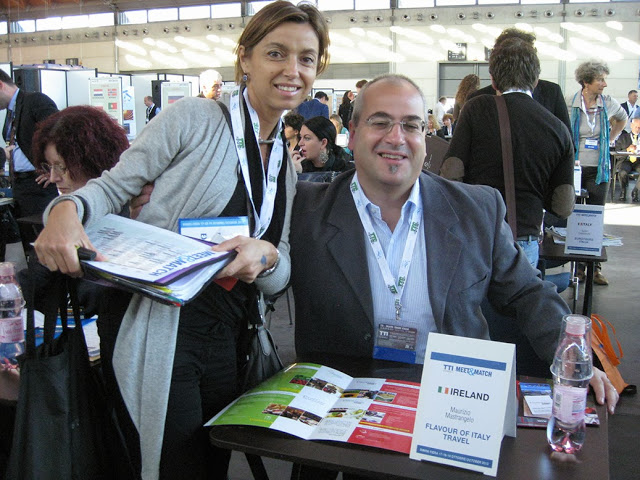 Maurizio Mastrangelo representing Flavour of Italy Travel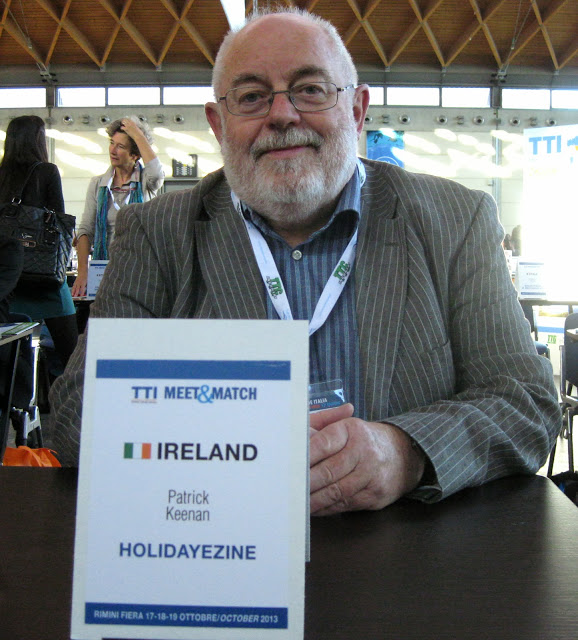 Patrick Keenan, editor of HOLIDAYezine, the only Irish Media at the Fiera
TTI- Travel Trade Italia 2013 was a huge event bringing together more than 600 international tour buyers from 60 countries who would over the following three days keep an estimated 13,000 appointments with Italian exhibitors.
Rimini Expo Centre, located just  north  of Rimini town, spreads across a vast area, 460,000 sq. m. (160,000 sq.m. of which is landscaped), has its own on-site railway station, just 50 yards from the main entrance (on the Milan-Bari line) or if you prefer to travel by helicopter there is landing pad and if you arrive by car you'll find parking space for 11,000 cars.
Laid out on one level, the expo centre has three entrances, 169,000 sq.m of useable space, 109,000 of gross expo space, 60,000 square metres of services, 16 halls all on ground floor, air-conditioned and able to be blacked out, 20 modular conference rooms, a business centre, three press rooms, 2 restaurants, 3 free-flow eateries, 10 food service points and parking space for 11,000 cars.
Lavish Welcome Dinner
On the evening before the opening all the buyers and sellers were invited a very lavish dinner at the opulent and very swish Grand Hotel Leonardo da Vinci in the port town of Cesenatico, just half an hour drive along the coast north of Rimini.
The five-star restaurant in the hotel – is able to accommodate up to 600 guests. During our dinner the weather was still warm enough in October to open the doors onto the park grounds making an eloquent and colorful after dinner-drinks setting for chats and networking.
It was hard to believe, standing facing this splendid display of food, that in 1890s this was a bath house and that during the Second World War Mussolini's Fascists occupied the place and set about making it into a weapons depot. It was only in 2004 that it was decided to turn the building into one of the most luxurious 5-star hotels on the Adriatic Coast.
Grand Hotel Leonardo da Vinci, Viale Carducci, 7, Cesenatico
Since the focus of the Irish delegation was not just on travel but also on gastronomy it was interesting to note a sad coincidence. Just recently we learned of the death of Marcella Hazan, the Italian cookery writer whose cookbooks in english and whose recipes in the New York Times are credited with introducing the techniques of traditional Italian cooking to the the United States, Britain and Ireland. Marcella Hazan (nee Polini) was born here in Cesenatico in 1925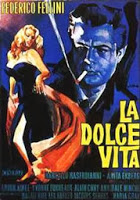 Rimini – world famous as a tourist destination
Rimini is of course world famous as a tourist destination with an enormous choice of hotels and restaurants, wellness and leisure facilities.
Off season the area is actively promoted as a location for expos and conferences, well connected as it is to the rest of Italy, Europe and the world by Federico Fellini International Airport (formerly the Rimini-San Marino international airport).
Yes, that's Fellini the great Italian filmmaker who was born in Rimini – how things change, in the 1960s he was spat upon in public and condemned by the Vatican for La Dolce Vita, his most famous film.
Casa Zanni – a surprise and a discovery
On our last evening together, delegates were bussed of to what was promised to be a 'Surprise Farewell Dinner' and, just as at home, it's hard to keep a secret, well, secret. As early as breakfast on that morning the talk was of dinner in a wine cellar – and so it was, but it was still a surprise.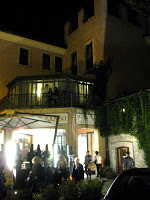 Casa Zanni was a discovery. Laid out between all the wood wine casks and stacked wine was a formidable array of food and wines to accompany every food choice.
Piada (or piadina), a thin Italian flatbread, used as wraps and typical of the Romagna region, is hand made here, for all to see,  over wood fires. Made using just white flour, olive oil, salt and water, it is served with fillings of meats, cheeses, lettuce, tomato – hey, just about anything you fancy. The pasta is home-made too, served with delicious sauces. Just about everything is freshly prepared on the premises and this includes the meats. The butchers shop, at the entrance, is part of the restaurant and downstairs, where we had our get-together the vast wine cellar is stocked with wines and yes from their own vineyards.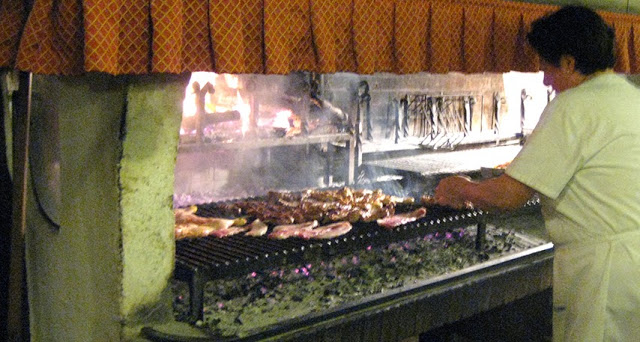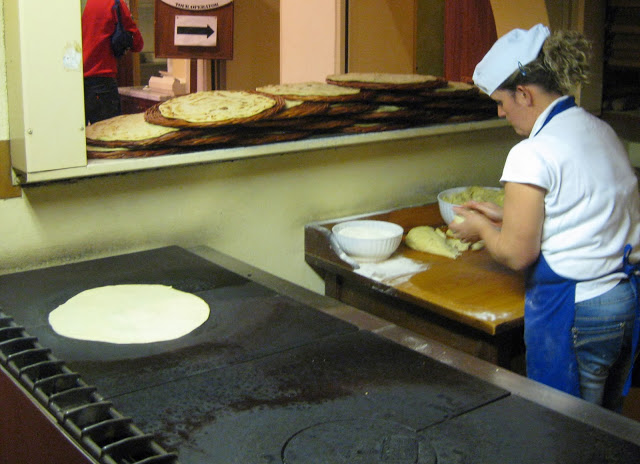 Casa Zanni, Via Casale, 213, 47826 Villa Verucchio Rimini, Italy www.casazanni.it/index.php?lang=en
Accommodation
During our trip the Irish delegation stayed at the Hotel Mediterraneo on Ceccarini Street right on the sea front at Riccione, just south of Rimini. 
Let me say straight away that what at first looks like your average breakfast buffet has some of the best scrambled egg you're likely to find. It had a fresh buttery egg taste that sent me back for seconds and I was not the only one to do this. The coffee, as you would expect in Italy, was also excellent and when I tell you it was from the buffet's coffee machine ! When did you ever get good coffee from a machine? Well, here,  we did. Enough with the praise – they charge for WiFi.
Founded by two enterprising Italian entrepreneurs, Maurizio Mastrangelo and Marco Giannantonio, fromCampobasso, approx 233 km./145 miles east of Rome. Both are now living in Ireland. and their unique love of both countries led them establish The Flavour of Italy Group combining all the traditions and promoting the culture of authentic Italian food and wine in Ireland. This has led on to organizing travel and tours to all regions of Italy and setting up in Dublin of the Italian School of Cookery. They told me that the success of the group is largely down to a constant search for quality products and providing authentic Italian cuisine which explains their second year at TTI – Travel Trade Italia in Rimini  www.flavourofitaly.net
Today the group consists of:
Pinocchio Italian Restaurant and Wine Bar
They are members of F.I.B.I. – Federation of Italian Business in Ireland