OUR VALUES
The secret of the Flavour of Italy Group is the excellence in the way all activities are performed always complying with the following values: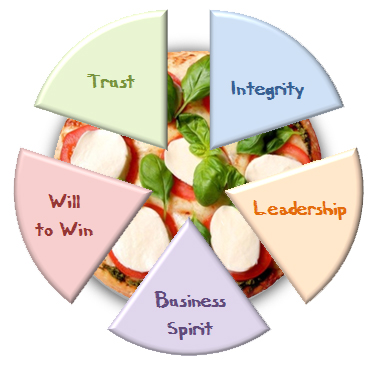 TRUST
We respect our colleagues, customers and guests and treat them as we want to be treated.

We have confidence in each other's skills and intentions.

We believe that people work best when there is a foundation of trust.
INTEGRITY
We always try to do the right thing.

We are honest and straightforward with each other.

We operate within the letter and spirit of the law.

We uphold the values and principles of the Flavour of Italy Group in every action and decision.

We always refer to data and intellectual honesty when presenting our proposals or valuing possible risks.
LEADERSHIP
We are leaders in our area of responsibility with a deep commitment in sharing and spreading our results.

We have a clear vision of where we are going.

We use all our resources to achieve leadership objectives and strategies.

We develop the capability to deliver our strategies and eliminate organizational barriers.
BUSINESS SPIRIT
We accept personal accountability to meet our business needs, improve our systems and help others improve their efficiency.

We all act like owners, treating the Company's assets as our own keeping in mind the long-term success of the Company.
WILL TO WIN
We are determined to be the best at doing what matters the most.

We have a healthy dissatisfaction towards the status quo.

We have a compelling desire to improve and to win in the market.