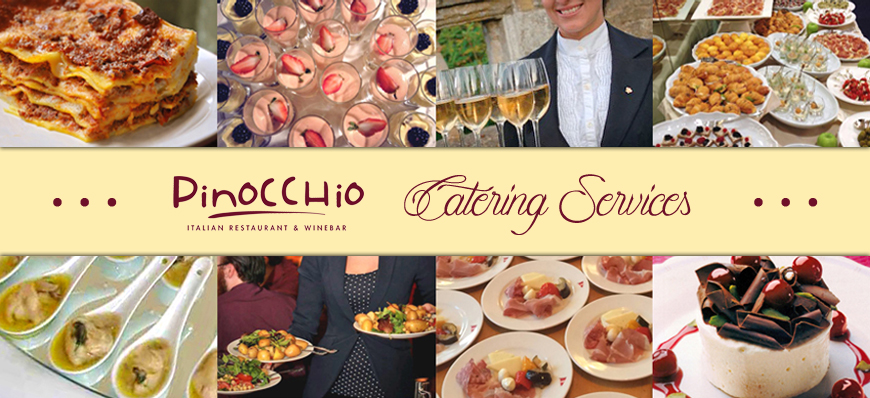 TELL US WHAT YOU LIKE AND WE WILL MAKE IT HAPPEN!
Corporate Catering  -  Lunch / Brunch / Dinner  -  Italian Bar  -  Buffet
Special Occasions  -  Weddings - Gala Dinner  -  Chef at home  -  Cooking Party at home

For tailored menu, booking or more information contact us:    01 4608800   |   Email us


Pinocchio Restaurant Catering division works to satisfy any needs for any events
with professional service and a bit of "Italianity"!
We aim to transform each event into something exclusive and special
and to bring to the table the warmth of Italy using the flavour, the scent and the colours of its dishes
thus offering always new and unique emotions.
What we offer
Pinocchio Catering division offers a wide range of outdoor catering and banqueting services. Particular attention is always given to the quality of the service offered and to the choice of menu. We serve truly Italian dishes that express the purest Italian tradition with a touch of creativity and fantasy. Taste, research, quality, presentation and experience are the main areas of interest within our catering division.
The style proposed is the Italian one with an "obsessive attention" to food and service quality.
Special Service
"Chef@home" is a service that gives you the chance to have a professional chef who cooks for you in your kitchen, maybe even involving the people present in an amazing cookery class.
Take the stress out of a dinner party and let our chefs look after the cooking of an authentic Italian meal!
Plus
All our recipes are studied by ours top quality ITALIAN CHEFS from Pinocchio Restaurant and the Italian School of Cooking.

All the INGREDIENTS we use are genuine and of top quality standard.

We have the finest selection of ITALIAN WINES.

Our bread, fresh pasta, pastries are HOMEMADE by our Italian chefs according to the Italian tradition.

Our SERVICE is guaranteed by professional waiting staff.
Additional Services
Professional black tie waiting staff
Ice, sugar or vegetable displays
Wine list and bar service
Crockery, cutlery, glasses, linen
Garden furniture, tables & chairs

For booking or more information contact us:   01 4608800   |   Email us
Come and visit us: Luas Kiosk Ranelagh | Dublin 6 (IRELAND)

FROM OUR GUESTBOOK
"Hi guys, I just wanted to let you know that now that you started delivering your delicious Italian food to the office, the lunch break has become the best part of the day (and the one I wait for all day). You can notice that there is a much more positive spirit in the office for the rest of the day to the point that it seems that there is even an increase in the efficiency of the staff and the productivity of the Company. Your food must be magic. Just to say thanks for that."
"Thank you very much for the dinner! Everyone had an amazing time! We really enjoyed ourselves! We spread the news everywhere!"
Read more >>