ENJOY THE SICILIAN SUNSHINE
4 nights / 5 days
From 18th to 22th of May 2016
Marco and Maurizio will lead you to discover Palermo and West coast of Sicily for a unique travel experience. The tour takes you to unspoilt areas with incredibly beautiful beaches, natural reserves and vineyards.
We will visit a beautiful cellar with vineyard for a tasting of great wines and the labyrinth of Ballarò market.
We will taste street food, fish couscous, ice cream and Sicilian pastries.
We will take a boat tour with amazing scenery of bays, rocks and blue sea.
We will see the sky full of colourful kites for the International Kites Festival.
CLICK HERE FOR TOUR ITINERARY AND PRICE
Sun, flavors, colours, entertainment … and much more are waiting for you,
let's have a look to the video below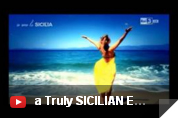 Come and join us!